Volga hotel
The building of the Volga hotel is a monument of architecture of the early 20-th century, a magnificent, unique example of late Art Nouveau (project of the outstanding Russian architect S. Kallistratov). The Volga hotel is the oldest hotel of Saratov, which is located in the historical centre of the city, in the very heart of Saratov Arbat in Kirov Avenue.
There is a legend to say that the sculptors of Knights on the roof of the hotel Volga symbolize guards protecting peace and quiet of the guests. The boys together with the Knights represent the messengers, prepared to meet and help tired guests with their heavy luggage.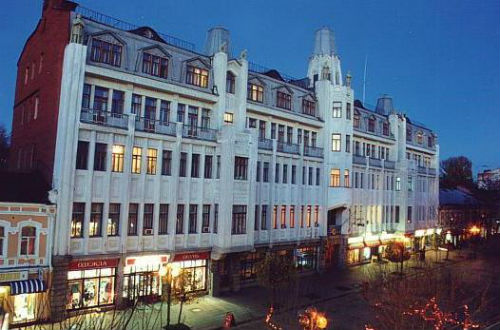 The street in which the Volga hotel is located now, used to be named Astoria. Before the revolution reporters called it the local Nevsky prospect. Clean, paved, with luxury window glasses of rich shops, in three quarters, it was always very impressive. Today it is a pedestrian zone, enjoyable for both inhabitants and tourists.
It is nearly a century the Volga hotel welcomes famous and honored guests: poets, playwrights, theatre and cinema actors, composers, singers. Among them there were: V. Mayakovsky, S. Serafimovich, V. Gladkov, A. Pankratov-Cherny, A. Rosenbaum, E. Mironov, V. Leontiev, L. Dolina, N. Coroleva and others.
The location of the hotel Volga allows its guests to enjoy the cultural life of the city, do some shopping and have a good time. Just a few minutes walk away there are the academic Theatre of Opera and Ballet, the Theatre For Young Spectators named Kiselev, the Puppet Theatre Teremok, the regional Philharmonic named Schnittke, the Provincial Choral Music Theatre, the Conservatory named Sobinov, Nikitin Brothers Circus, The Pioneer and Victory Cinemas and huge shopping centers. Within a 10 minuets walk from the hotel there are City Park Lipki and Cosmonauts embankment overlooking the bridge across the river Volga.
Volga Hotel provides room categories:
Apartment — 1 room;
Suite — 6 rooms;
Superior — 2 rooms;
Single standard — 13 rooms;
Double standard — 7 rooms;
Single economy — 5 rooms;
Double economy — 8 rooms;
Triple economy — 5 rooms.
Leaders of sales
Single standard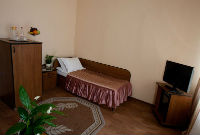 2 500 rubles per night
Book a room
Double standard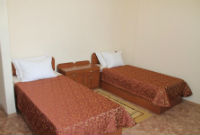 3 000 rubles per night
Book a room
Services:
Access to the Internet through a network Wi-Fi;
Transfer;
Guarded parking;
Cable TV;
Bonus system "Accommodation";
Visa support;
Conference hall with 70 seats for holding various events, equipped with overhead projector, screen, flipchart and microphone;
Air tickets office;
Excursion programs;
Restaurant;
Laundry, repair;
ATM.
VISA and MasterCard accepted.
Hotel Volga is located: at 34, Kirov Avenue.
Phone: +7 (8452) 26–36–45
Fax: +7 (8452) 27–95–62
E-mail:
— services are free of charge. ... Leaders are those categories of rooms, having the greatest number of reservations in the past 2 weeks.