Hotels of Saratov
The Astoria Hotels Group was founded in 1990 and at present is one of largest establishments of the hotel deals in the city of Saratov.
Astoria Hotels Group includes three hotels:
VOLGA — is located at 34, Kirov Avenue.
All the hotels are located in the central part of the city. Due to their convenient location and impeccable hospitality, the Astoria hotels offer you a good opportunity to stay in the centre of business and cultural life of the city and have a very pleasant relaxing stay. Great pride is taken in treating each guest as an individual and on creating a warm and friendly atmosphere.
Leaders of sales
Single standard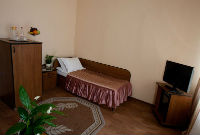 2 200 rubles per night. Breakfast in the gift
Book a room
There are more than 200 rooms of different categories in the Hotels Group. Economy class rooms are convenient for accommodation of participants of conferences, seminars and sport events. Luxurious accommodation of Superior, Suite and Apartment class is offered to VIP people, movie, pop and theatre stars.
Rooms Fund


The proposed service and quiet atmosphere make your stay at the Astoria pleasant and comfortable. We appreciate your choice and expect you to remain our regular visitor and partner.
Booking rooms
Get 5% discount* when booking from this site.
Advantages of online booking:
economical and convenient reservation;
immediate confirmation of reservation by по e-mail and/or SMS;
booking any hotel of the Astoria;
check availability;
order for additional services.
The hotel does not charge any fees for reservation arrangement and does not withdraw from your credit card. Online booking does not require any intermediaries and any additional fees. You can pay your reservation by cash, credit card and electronic cash or by bank transfer.
Cancellation is free of charge, subject to the terms. Reservation is valid till 6 p.m. on the day of arrival. At 6 p.m. the reservation is canceled.
For further information, on booking online please call on: +7 (8452) 73–41–33 and/or e-mail
*
To get a discount in online booking in the section 'Discounts and special offers' select option 'Discount of 5% when bookings from a website'. The offer is valid for all categories of rooms, except 'Economy'. The discount is offered after pay in advance and cancels the other discounts of the hotel. ... Leaders are those categories of rooms, which have received the greatest number of reservations in the past 2 weeks.