Saratov hotel
The Saratov hotel is aimed at business people who respect themselves and appreciate their time. It is good to accommodate participants of exhibitions, seminars and conferences. It is the best choice for those who come to Saratov on business.
The hotel is located in the central business area. Within a few minuets drive away there are the largest office centers.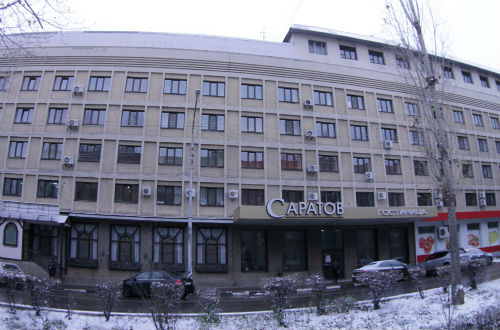 At a short distance there are City Park of Culture and Rest named M. Gorky, the main and one of the largest parks of Saratov, the only exhibition business platform in the city — Hall of the Palace of Sports, as well as the Crystal Palace and the Saratov Swimming Pool.
Near the hotel there is a branch of the all-Russian Saratov TV State Television and Broadcasting Company, and Saratov State Low Academy.
Saratov Hotel provides room categories:
Apartment — 3 rooms;
Suite — 4 rooms;
Junior suite — 23 rooms;
Single standard — 20 rooms;
Double standard — 21 rooms.
Leaders of sales
Junior suite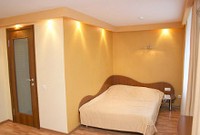 from 2 700 rubles per night. Breakfast in the gift
Book a room
Single standard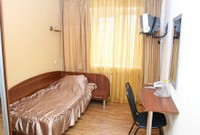 2 200 rubles per night. Breakfast in the gift
Book a room
Services:
Access to the Internet through a network Wi-Fi;
Transfer;
Guarded parking;
Cable TV;
Bonus system "Accommodation";
Visa support;
Excursion programs;
Restaurant;
Laundry, repair;
ATM.
VISA and MasterCard accepted.
The hotel is a temporary home. Should it be warm and comfortable. The management and staff of the Saratov hotel provide guests comfortable conditions, good care and attention, which allow to keep warm feelings in the heart and good impressions of our city.
The Saratov Hotel is located: at 9, 2 Sadovaya Street.
Phone: +7 (8452) 20–34–05
Fax: +7 (8452) 20–24–52
E-mail:
— services are free of charge. ... Leaders are those categories of rooms, having the greatest number of reservations in the past 2 weeks.